Is Your Brain Culling Your Sales Too?
Here's when OVER thinking will dry up your flow of sales like a barren, dusty riverbed.
After a flurry of back-to-back qualifying calls with dozens of the Super-Six coaching applicants…
… I was reminded of some old-school truths.
One of them being…
Don't try to be TOO clever with your message.
It's the curse of newbie-copywriters and ambitious business owners.
The obsession with using big, fancy words and clever twists will only suffocate your marketing efforts.
Strip your message raw, to the bone, and answer this question…
"What's your big promise?"
What are you SPECIFICALLY promising your prospect?
Okay, imagine I'm your prospect…
Explain it to me (in simple language) like I was a fidgety, sugar-junkie-14-year-old-kid with ADHD.
(Don't laugh, that's the equivalent attention span of most adults today, so take it on board)
You've got 10 seconds of my attention – Don't waste it. What have you got? – What's the big promise?
Any mumbo-jumbo intellectual jargon is doing nothing more than feeding your own ego.
Any creative waffle is purely for your own entertainment.
Don't compare yourself to your competitor.
Your game is not trying to impress them, or outsmart them…
You're trying to impress me. Your purpose is to catch MY attention and interest. You want me to have clarity and desire to want to know more.
Don't over think it.
A confused prospect never buys.
Shave down your message to the core promise and start from there.
Yes, there are more advanced, bolt-on techniques to make your message even more irresistible and compelling…
But this is the ONLY place to start.
Got it?
Look, if you wanna nail this (which most people need to) then here's how…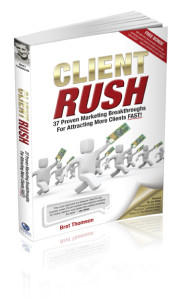 You'll learn all about these magnetic sales tactics when you flick over to Section 2 (page 35) of my marketing bible, "Client Rush"
And just like Joe Vitale (Featured on "The Secret") said…
"You can no longer complain about needing more clients again because the answers are inside this book. An amazing jam-packed treasure-chest of 'client-attraction' tactics for you to immediately apply" – Joe Vitale
I'm heading to the post office tomorrow, so if you want me to send you your signed copy, click here now.
And yes, if you're a kindle-lover, you can devour it on kindle as well…
Think big. Be different.
Bret Thomson
P.S. Come on… Go grab this book already 😉
Get your regular dose of raw, entertaining and informative insights on marketing and copywriting, straight to your inbox for FREE!