I loved it to death (literally)

I held on too long… and choked the life out of it…
Running on blind passion fuelled by an 8-year obsession with daily motivation books, audios, DVDs and seminars…
…I eagerly dived headfirst into my first REAL business.
Since it was my first shot at a business, I thought,
"I know, maybe I'll start with… Trying to change the WORLD"
Made perfect sense.
My plan was to run personal development workshops for kids between 7 and 13…
…And fill them up with all the vital life-skills missing from the typical schooling curriculum.
Like:
Self Esteem
Confidence
Resilience
Communication skills
Overcoming fear
Setting goals
And so on…
Told all my friends, family (even strangers) about my vision and I got a resounding,
"HELL YEAH BRET! Sounds awesome!"
(Just like I thought).
Chest puffed out, I walked up to my boss and announced my resignation.
I thought I'd share my vision with him at the same time…
Maybe he didn't hear me properly, or something?
He didn't seem impressed one bit.
Weirdo.
Anyway…
For the next 3 months, I contacted every person who LOVED my idea and encouraged them to enrol their kids/s into my first 2-day workshop.
Insert: "Sound of a Cricket"
Dismal response, on all counts…
I bashed my knuckles on the doors of all the local schools…
(Surely they'll be keen)
… But I was quickly tangled up in more red tape than even a rich politician could escape from…
You see…
Everyone LOVED my idea… But no one was prepared to pay for it.
After 4 months, my funds were dangerously low…
Go here for the full story of my marketing turnaround from $16K to $200K+ in 12months
I needed help…
I tracked down Australia's best marketing gurus, like Mal Emery and Andrew & Daryl Grant.
These guys were the first people who told me straight…
My business model SUCKED!
They then mumbled some fluff about needing a better marketing system, or some gibberish.
Boy, weren't they disillusioned…
Little did they know I was standing on the shoulders of great men, like…
Napoleon Hill, Dale Carnegie, Maxwell Maltz, Anthony Robbins, David Schwatz, Og Mandino, Jim Rohn, and more…
How could it NOT work?
I had determination, perseverance, confidence, stamina, vision, belief, motivation and INTEGRITY.
On top of that… it was my PASSION… So there!
I loved my business idea
I loved it… to death.
After 12months, while raising my 3 sons who were (and still are) my primary motivation, I made a total of…
$16,017 for the year
Had to move back into my parent's house.
At 33.
And that's when I decided to learn direct-response marketing.
Go here for the full story of my marketing turnaround from $16K to $200K+ in 12months
Today's lesson… Don't fall in love with your product.
You can have all the altruistic, noble, philanthropic qualities out there…
But to succeed in business… First and foremost… you need to know direct–response marketing.
Here's your best way to start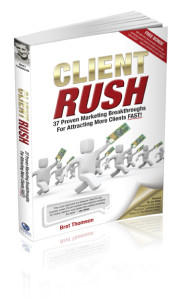 Think big. Be different.
Bret Thomson
P.S. When you order, I'm looking forward to sitting down at my desk and writing you a personal message, in your new book 
Get your regular dose of raw, entertaining and informative insights on marketing and copywriting, straight to your inbox for FREE!