Are you guilty of LAZY marketing? (Avoid this)

 Why Being A Slack Marketer Can STUNT Conversions
All the pros tell you to swipe winning headlines and tweak them for your own…
Makes sense right?
Some of the most ripped off headline templates are over 30-years old.
But be warned… Just because something worked 30-years ago doesn't mean it would work in today's market.
In fact, something that worked 12 months ago might not cut it in today's market…
Truth is… Your market-audience is getting wiser.
No doubt, your competitors are rehashing the same BIG benefits and promises you are…
Your market is becoming more sophisticated.
Their advertising-intelligence is evolving.
And they've been numb to the hype for years.
Take this in, please…
Their awareness is moving to higher stages… and with that… your marketing has to evolve also…
If you're just starting… sure… use an old template, because it's probably a safer bet than a rookie 'opinion-based' headline.
No ribbing from me if you do…
However… for you sophisticated marketers… especially if you're in a mature, competitive market…
… Then you need a new hook.
Eugene Schwartz, in his all-time-classic book, "Breakthrough Advertising" called it a 'Mechanism'.
Meaning, you need a new element to hook your reader.
The weight loss industry passed through the BIG BENEFIT stage…
How many times have you seen promises like this?
"Lose 10kg in 10-Weeks"
They have to fight between the other 10,000 businesses promising the same thing…
The smarter marketers evolved to adding a new mechanism as the hook, to differentiate themselves, like…
"A Secret Nutrient Discovered In A Fruit Only Found In A Remote Tropical Island Off Hawaii That Strips Fat Without Exercise"
And so on… you get the idea…
And when that level of awareness tires out, then you have to adapt again…
Keep current… And keep testing fresh new appeals to your audience, so your conversions are growing not declining…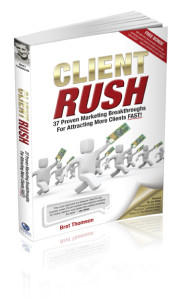 I've got a crash-course, cheat-sheet tutorial on how to write killer headlines.
You'll get it all on pages 54 to 73 when you order my book Client Rush
Inside that section are about 50 of the best headlines to "Inspire" you for ideas…
And they'll also sharpen your skills for email subject lines and bullet points.
Till next time…
Think big. Be different.
Bret Thomson
P.S. My post-office day is tomorrow and I've got a bundle of new book orders (personally signed) I'm mailing out, so if you want me to add your book, then follow this link to order it now
Get your regular dose of raw, entertaining and informative insights on marketing and copywriting, straight to your inbox for FREE!