When It's Okay To SUCK At Writing!
Sobering (and profitable) advice to sell more of your goods… even if you failed English at school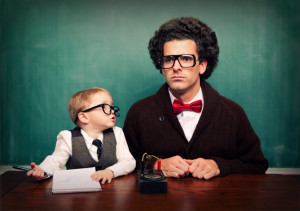 This'll be a relief for you…
Because I often speak from stage to complete newbies about copywriting, I have to remind myself to first teach the basics.
So this quick lesson is a reminder (to us both) about one steadfast principle to master before you dive too deep into the copywriting ocean.
And that is…
You don't have to be a wordsmith to be a great copywriter – you just have to know the psychology of your prospect.
Takes the pressure off a bit, doesn't it?
Let me pack this out a bit more…
Most people are "institutionalized" to use BIG words when they speak and write.
Why? Well, I guess it's a stroke of ego to make them sound less thtupid and more smarterer.
Whatever the case, great copywriters don't play that game.
We get paid to simplify things.
We take a concept or idea and dumb it down. We simplify it so it's easy to read and digest for the reader.
You know it's funny to see the journey of a new copywriter.
The more they learn at the start, the more they waffle on with unnecessary babble before they get to the meat.
You can pretty much slice 30%-40% (or more) of gibberish that was only there to entertain their own copywriting ego.
Might sound harsh, but I was the same.
Lesson for you…
Brevity is key. Well, make that, brevity with emotion is key.
Keep your words short. Too many syllables will trip up your reader. If they trip over your words, they'll start skim reading.
You don't want that. Remember, the more they read the more they buy.
Also…
I try to keep my sentences 7 words long. (Not including the tiny words like, "a, I, it, in, if, is, on, and so on). Easy to digest.
Same rule with paragraphs. Keep 'em short. One or two sentences… occasionally three.
For the most part, people hate reading.
It's been estimated that the comprehension rate of most adults is equivalent to a 13 year old.
So dumb it down and keep it simple cos the more they read the more they buy.
Look, they're a few surface-level-tips to help you convert more sales from your copywriting.
To go deeper, grab your copy of my book "Client Rush"
It's a simple read, crammed full with hundreds of marketing breakthroughs for attracting more clients fast.
You'll be a better marketer for reading it…
Till next time
Think big. Be different.
Bret Thomson
P.S. If you prefer, you can grab the kindle version too. There's a small yellow link under the main buttons.
Follow this link now to grab your copy
Get your regular dose of raw, entertaining and informative insights on marketing and copywriting, straight to your inbox for FREE!